St Kilda Mums is an organisation supported entirely by the generosity of the community and philanthropy. They package donated preloved goods for rehoming to families in the community who might need them. Their vision is a future where we share more, waste less, and care for every child.
The Smith Family is an independent children's charity helping disadvantaged Australian children to get the most out of their education, so they can create better futures for themselves.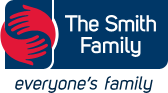 Hoodie Up for Autism is an initiative of Amaze – the peak body for autistic people in Victoria. During Autism Acceptance Month, Hoodie Up for Autism happens on the 3oth of April when the community will Hoodie Up to raise funds and show their understanding, acceptance, and support for autistic people.
The Good Friday Appeal is a charity that raises money to enable The Royal Children's Hospital in Melbourne to continue to provide world class care for our children. The Appeal brings all sectors of the community together to raise funds every year culminating in a telethon on Good Friday.