Disability support services are an integral component in the lives of those living with (dis)ability. Recently, two of our team members had the privilege of meeting Anthony Bartl, one of Colbrow Care's many high intensity clients, at his home for an inspiring reflection on his experiences. Anthony has an amazing ability to see the bright side of life, to live life to the fullest, and to savour every experience as a nugget of gold. It was a humbling experience and a great reminder of the value of being present in each moment, no matter the obstacles we face to get there. Continue reading to get a peak into a life being lived to the fullest!
Q: What would you say is the most exciting adventure(s) you've ever had?
A: A visit to South Africa in 2013. What led up to that was winning $50K on Millionaire Hot Seat. The question I had to answer for the jackpot was 'In which band did the actor Jack Black sing in?' and being a big music fan, I knew the answer! At that time my disability support services were funded through a disability support pension which was never going to be enough to fund an overseas trip for someone with my support needs. However, I had a few friends who were film makers wanting to make a documentary inspiring people with disabilities to reach for their goals, and because I did not want to make an overseas trip completely self-indulgent, I teamed up with them to embark on this adventure. It was touch and go to find carers, putting together an entire film crew in time for the trip, but we managed it all in the nick of time and it turned out to be the adventure of a lifetime. I got to see four of the big five animals native to South Africa (unfortunately no lions which was disappointing), went on a river full of hippos and crocodiles, experienced the culture of the South African natives and spoke to a school for kids with disability. Even though they had nothing, I wanted to pass on a message of hope that life with a disability can still be rich.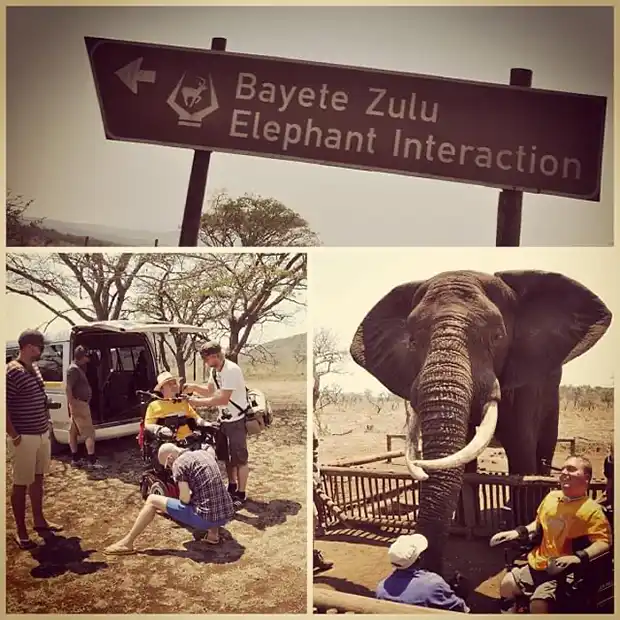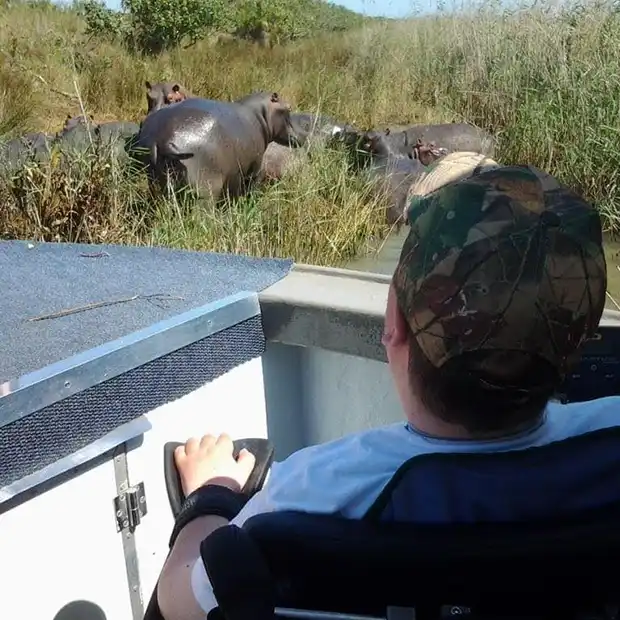 I also went skiing at Falls Creek in 2019. Disabled Winter Sports Australia operate on that mountain and they provided me with a piece of equipment called a Sit-Ski – not unlike Santa's Slay mind you! It was quite tight and I struggled to breath because of the altitude but with the guide on the back manoeuvring me across the course and access to the chair lift, I had the full snow experience. It was tough, but in hindsight I really loved the experience. These are just some of the experiences I have been able to enjoy through disability support services.
Q: What is the plan for the future?
A: I would love to go overseas again, maybe Borneo, anywhere off the beaten track. I find you experience more of the authentic side of a country this way.
Q: How do you feel about available disability support services? Are you finding that there is good provision for wheelchair users or do you find that it is generally still quite lacking?
A: In South Africa I was driven around in a bus mostly so did not have any real struggles in this regard.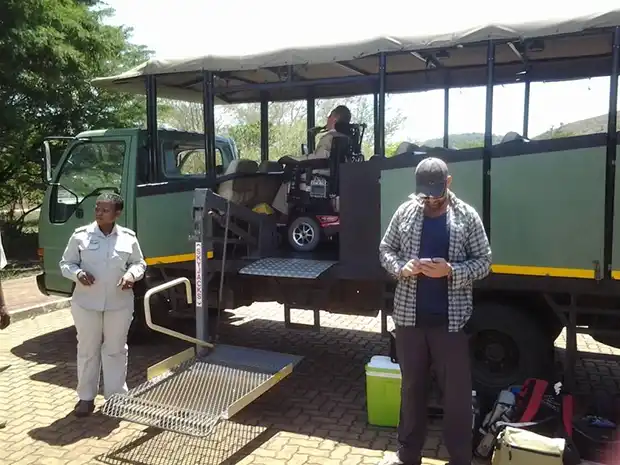 Jakata (which I went to twice before) was more tricky than South Africa with little to no road rules. Most of the time I just had to go and hope for the best, so that was pretty inaccessible. I have heard though that in developed countries like America it is much better, and I rate Australia as pretty good.
Q: How are your studies going – I know you want to be a primary school teacher?
A: I have acquired a Graduate Diploma of Education from the University of Ballarat. I'm about to do the full registration, Monday to Friday over the next 12 months, before becoming a fully qualified teacher.
Q: In terms of your day to day, are you out and about quite often?
A: Yes I was lucky (in a sense) that I was hit by a car and did not fall off a roof! If the latter I would not have had a TAC claim and my quality of life would have been far less. My disability support services provide me with great carers and I can do whatever I want! I am naturally an outgoing active person and will be out and about any opportunity I can.
Q: Anthony, I find your zest for life and adventure truly admirable and inspiring. It is awesome to hear your stories! You must look back on your life and feel a sense of pride and achievement?
A: You only live once. I always feel there is more to do.
Anthony wanted to give a big shout-out to Eddie McGuire who partly funded his trip to South Africa and who is currently trying to get Anthony's documentary on TV. Have a look at Anthony's video on Vimeo (password: bartlmania) to watch it now.